Waterfowlin'
We sometimes chase after em ducks too.
(Yeah, just every chance we get.)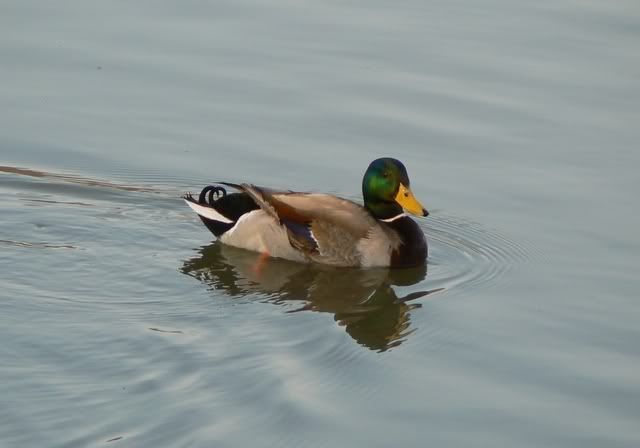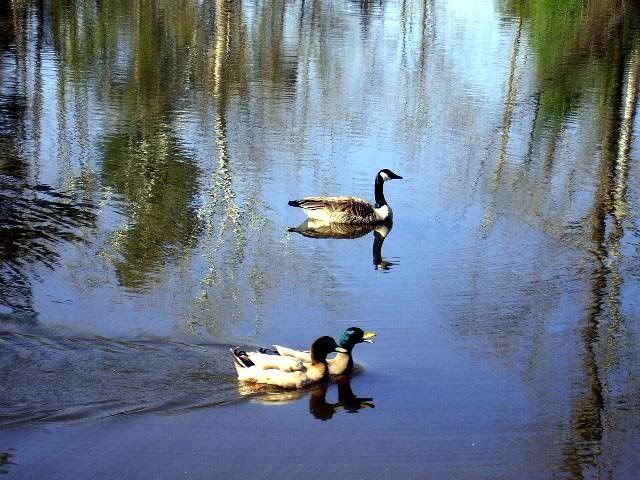 "Rascal the Wonder Mutt"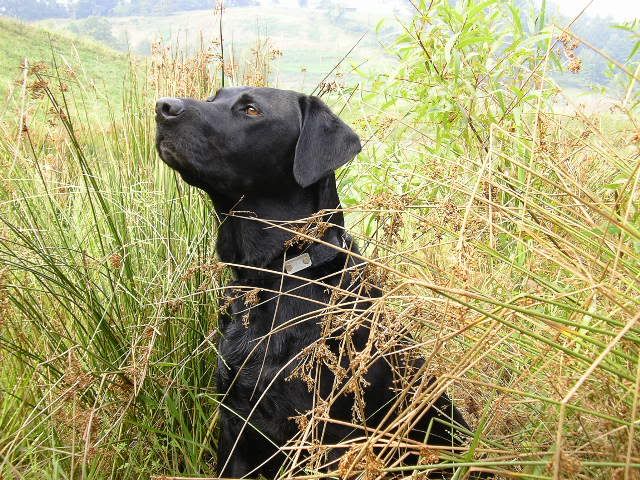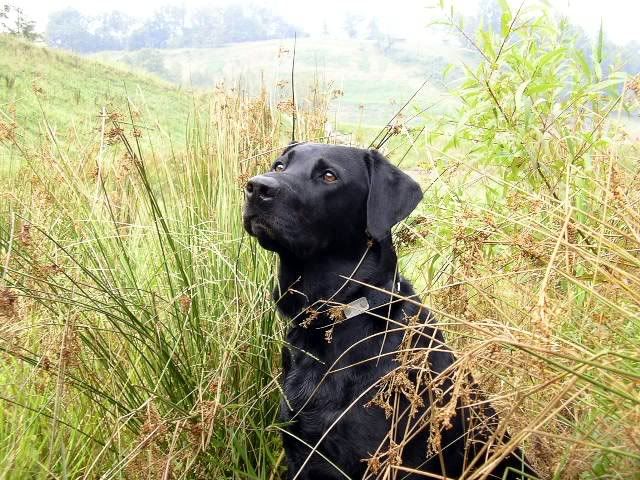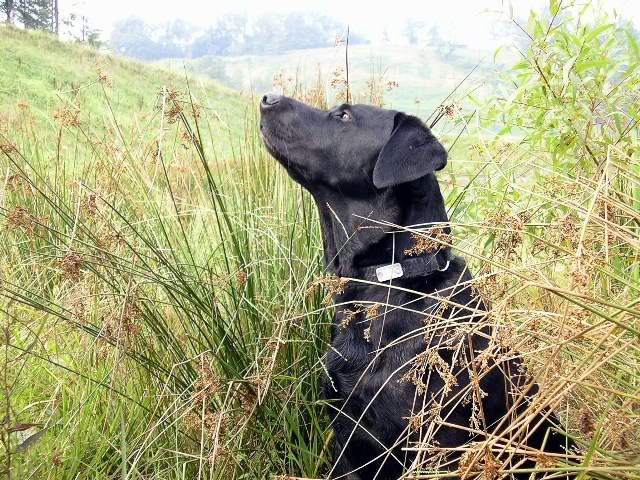 Rascal always gets his duck.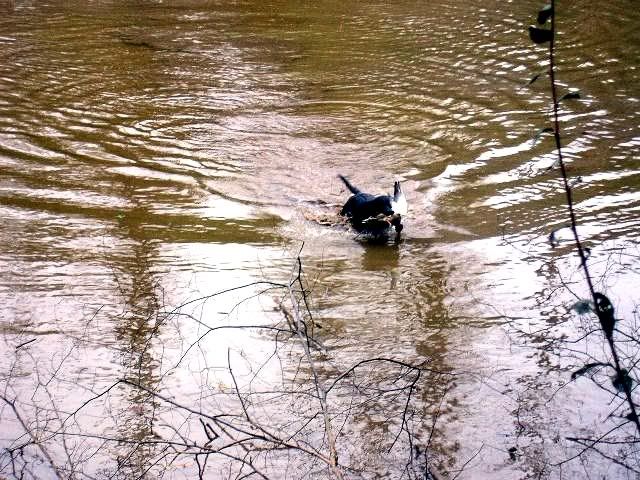 Rascal with a woodduck drake.
Here's Austin in the duck blind at "Duck Point".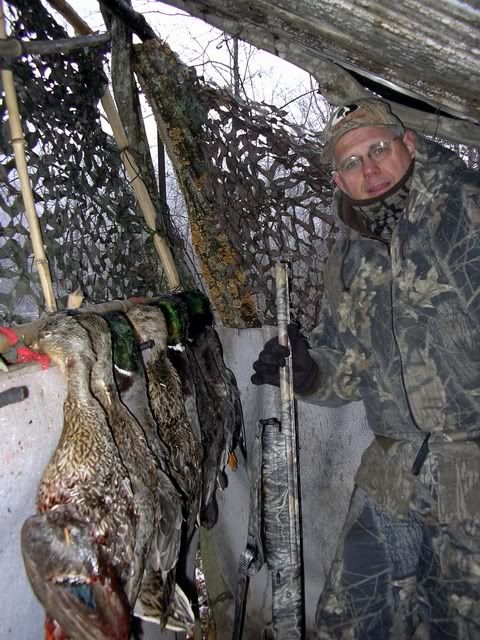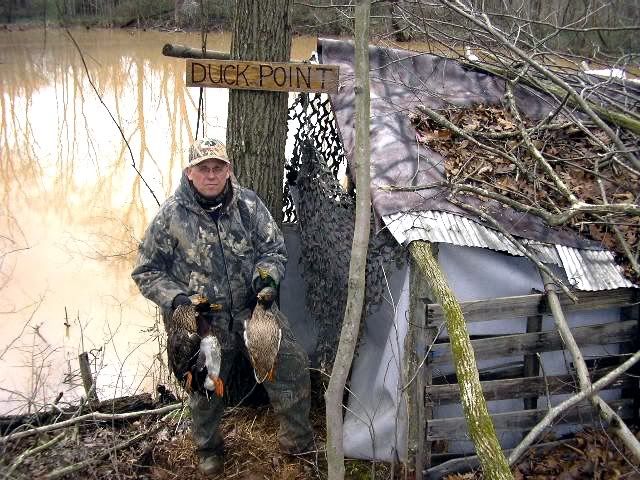 Since this pic was taken I've put a lot more brush on the blind.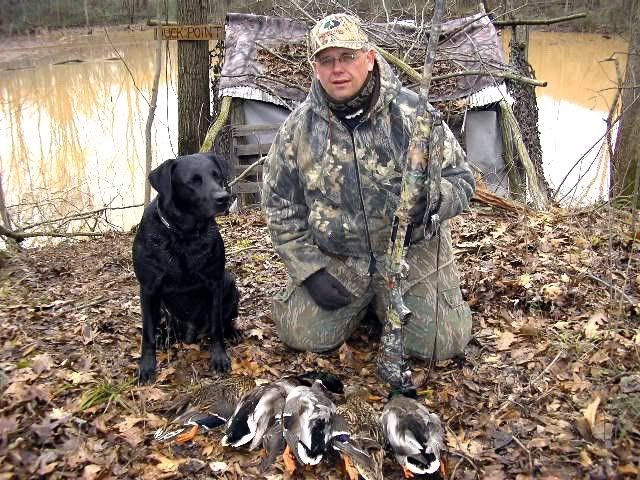 Austin at Green Bottom Wildlife Management
Area with his first wood duck drake.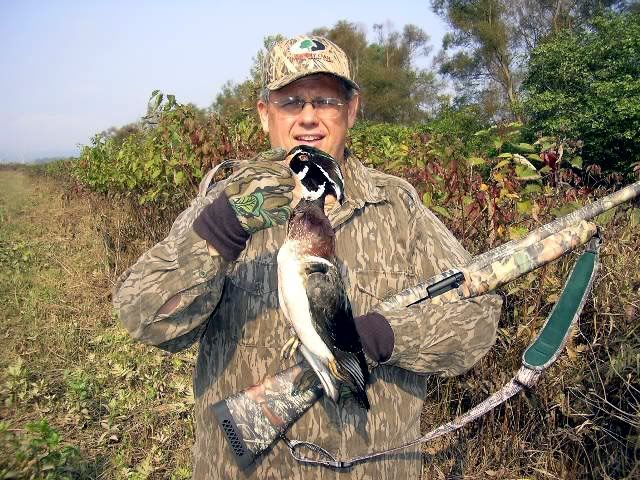 Rick Turner with his dog Maggie and
a limit of Canadas she was just a pup.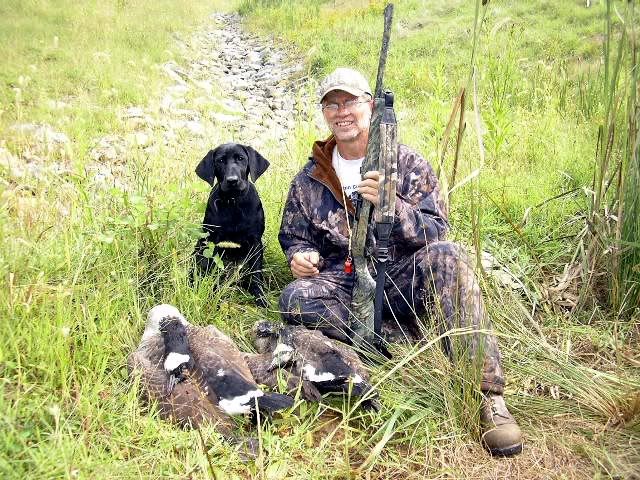 Joshua and Jeremy my two
sons in the blind with me.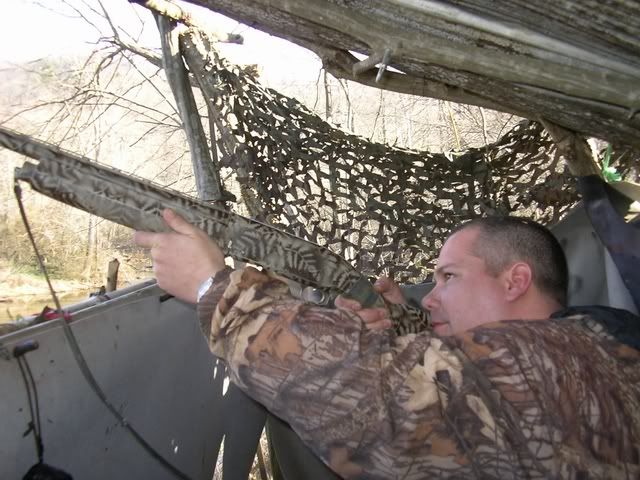 Josh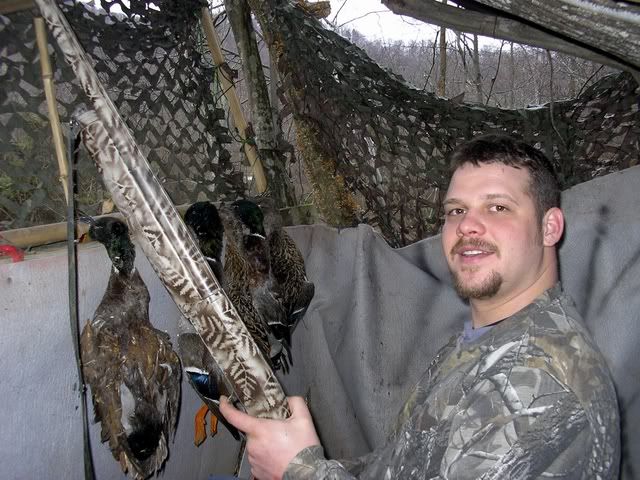 Jeremy
___________________________________________
Rabbits with a 12 bore Flintlock.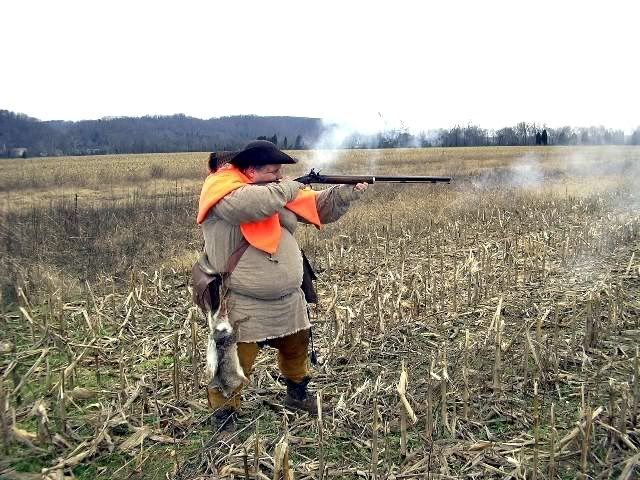 Yours truly linin' up a cottontail in my sights!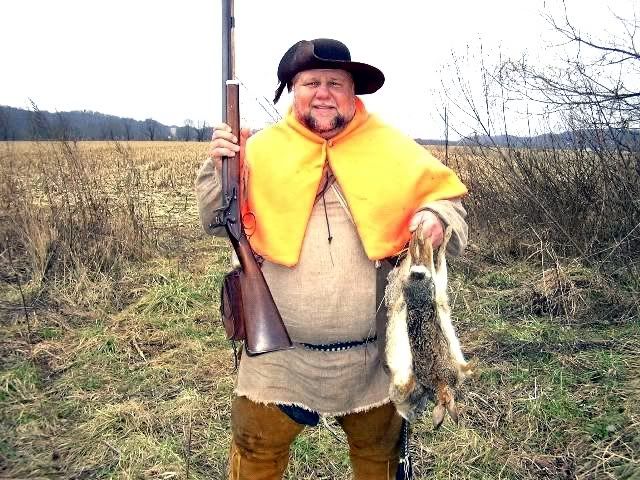 Me with my 3 bunnies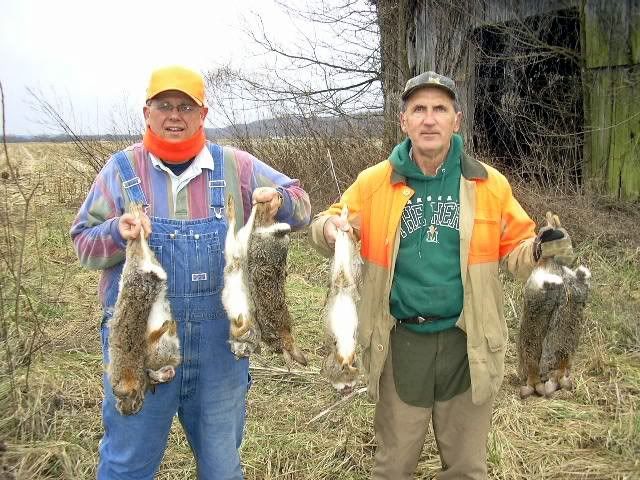 Austin Miller & Tommy Nance with the days take.3>
They got 2 each with their modern
12 guages. I got 3 with my flintlock.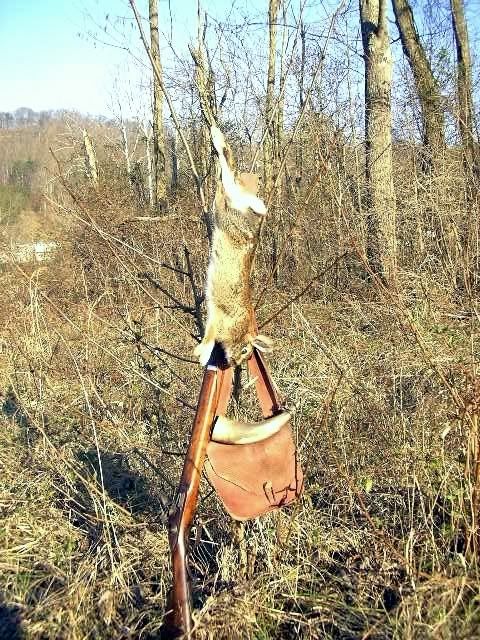 "Eye Candy"
Here's a good look at my custom built 12 bore flintlock.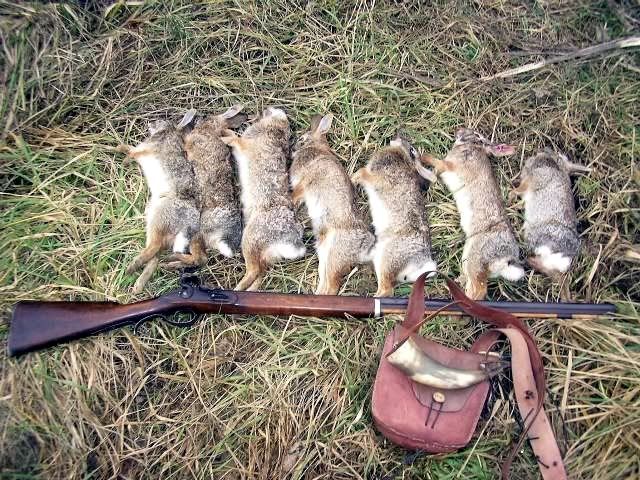 It's best to start them out young.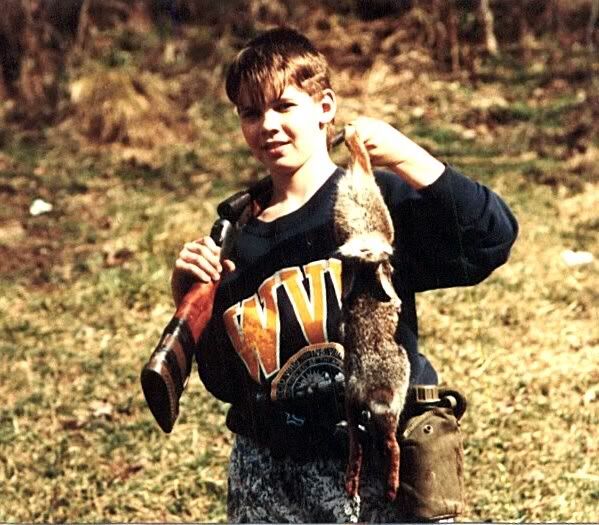 Jeremy was just 9 yrs old I believe on this hunt he's 26 now.
Man do I feel old! Some of my fondest memories are of going huntin'
with Dad. He fixed me up with an old WWII metal canteen. I treasured it.
I can still smell that old musty canvas cover. Notice what's on Jeremy's side!
From l to r Terry Copen, Chuck Goodall, and Mark Fitzwater.
Ruff was just 7 months old but he jumped 5 of these 73> rabbits and ran all of them to the gun. He was one great dog! The smile on Jeremy's face says it all! We sure have had some good times over the years!2h>
Here's 6 yr old Jeremy struggling with a big groundhog but still smilin'! __________________________________________ 1st Rabbit hunt of 2007 Terry Copen, "The Beagleman" Earl Casdorph, and Yours Truly Here's Earl and some of his dogs. Terry and Earl with the days bag of bunnies. At the end of the day we had 8 wabbits and 1 red fox squirrel! Nothing like the bawl of them little hounds!
___________________________________________
Bowfishing? Anyone? Here's a huge gar over 50" long I took with my recurve. For reference that arrow is 32" long and only penetrated about an inch through his tough hide. My right hand is touching the steel tip. I was able to release him basically unharmed.
My whole family bowhunts! Even some of my ancestors.
Here's Sherry with her 1st rabbit ever! Jeremy at 16 with his 1st archery rabbit.
Here's some of my equipment. I make my own wood arrows. The longbow is mine I gave the recurve to Sherry. I took some of these photos to go with an article I had published.

Yes, I used to shoot a wheel bow back in the day. I switched back to "Traditional Bows" about 1993.
One of several "Robin Hoods" I shot with my old round wheel Darton! I took 47 deer with that old bow. I've taken 17 deer with the longbow. And 4 with my Bear recurve. ___________________________________________
I called in this coyote while having a slow turkey huntin' day in the spring of 2001 on Coal Mountain. He came straight in to my wounded rabbit squeals. He weighed 45 pounds and had a huge set of choppers! Kenny Joyce and a rare black coyote he trapped in 2006.
___________________________________________ Fattening him up for fall! See ya in September you feathered rocket!
___________________________________________

Logan's Revenge


Talgayeeta, better known as Chief Logan of the Mingo whose capacity for fairness and honorable conduct was well documented, was an advocate of peace. After his father Shickellamy's death, Logan became one of the ten leading Sachems or council chiefs of the Cayuga (Seneca) branch. Logan eventually left the Cayugas to become chief of the Mingos where he lived with his family at the mouth of Yellow Creek, near present day Stubenville, OH. "Who is there to mourn for Logan?...Not one!" were the final words of Logan's Lament, his famous speech given to Lord Dunmore which summed up the feelings of anger and frustration over the brutal murders of his family by a party of disreputable frontiersmen. Upon discovery of his family's bodies, Logan swore revenge and within a short time, began reprisals on the scattered white settlers in the Ohio valley. The moving and emotional speech is below: ______________________________________________________________3> When the conference was being held between the Governor of Virginia and the chiefs of the tribes, it was discovered that Logan, chief of the Mingoes, and the real cause of the war, was not present. Of course, it was necessary that he should be there, and a white man was sent to bring him. He found Logan in a thicket seated on a log. The tears rolled down his cheeks and he wept like a child. His thoughts went back to the time when he was the "white man's friend," to the murder of his relatives, and in his broken English burst out in one of the most beautiful speeches ever uttered"3>
_____________________________________ Logan's Speech "I appeal to any white man to say if ever he entered Logan's cabin hungry and he gave him not meat; if ever he came cold and naked and he clothed him not. During the course of the last long and bloody war, Logan remained idle in his cabin, an advocate of peace. Such was my love for the whites that my countrymen pointed at me as they passed and said, "Logan is the friend of white men." I had even thought to have lived with you, but for the injuries of one man, who the last spring in cold blood and unprovoked, murdered all the relatives of Logan, not even sparing my women and children. There runs not a drop of my blood in the veins of any living creature. This called on me for revenge. I have sought it, I have killed many. I have fully glutted my vengeance. For my country I rejoice at the beams of peace. But do not harbor a thought that mine is the joy of fear. Logan never felt fear. He will not turn on his heel to save his life. Who is there to mourn for Logan? Not one." ___________________________________________ In Loving Memory of Logan Shane Goodall Oct 2002 ~ Sept 2005 'Papaw's Little Angel' ____________________________________________
Please Bear with me this site is still under construction. More to come later. ____________________________________________


Maranatha "Even so come quickly Lord Jesus"
____________________________________________